Welcome to our Automatic Script Review. In this article, we'll go over everything you need to know about Automatic Script – one of the most powerful copywriting software available at the moment. This tool generates marketing scripts automatically.
What is Automatic Script?
Automatic Script is a software as a service (SAAS) that assists users in creating sales messages. It uses the best copywriters' minds to create amazing sales copy that increases lead conversion and, ultimately, sales.
This software is unique in that it can be used by any type of business, regardless of their niche, products, or services. Even if you're giving something away for free and need assistance getting people to act, this software tool can help.
Who should use Automatic Script?
Automatic Script is a software tool that automates the creation of content, such as product introductions, sales landing pages, and other similar content. It assists copywriters, bloggers, and content creators in automatically producing impressive and well-organized content.
It not only creates sellable sales copies and informative content, but it also makes it easier and faster for individuals to use because copies are automatically created. As a result, you won't have to spend a lot of money to hire a professional copywriter, nor will you have to waste time learning about copywriting. If you're a blogger, a business owner, or a marketer looking for a quick way to create sales content, this tool could be a good investment. This tool can be used by even a professional writer because it generates copies automatically. This tool can be used by any business, whether online or offline, to increase profits.
Pros and Cons of Automatic Script?
There are two sides to every coin. Nothing is perfect and this tool is not an exception.
Pros
Even for beginners, it's simple to use.
Because you are familiar with our products, you can quickly write copies for yourself.
It's inexpensive, and it speeds up copywriting.
There are many different types of copywriting templates to choose from, so you can find the one you want. Additionally, people can create their own script templates.
Scripts that aren't visible on the dashboard can be requested.
You can get training on how to use this software tool or pay for monthly coaching.
Individuals have the ability to generate multiple scripts from a single input.
There are numerous helpful guides available to assist you in navigating this platform.
Cons
It can be expensive, particularly for small businesses. However, making a one-time investment isn't a bad idea either.
It's possible that your script will sound similar to that of other marketers rather than being unique. However, knowing what you want to do with the copy can help you solve this problem.
This can assist you in being more effective and allowing your voice to be heard.
The number of scripts that will be used in a database determines the pricing tiers.
Features of Automatic Script
In this Automatic Script Review, we will show you some major features of this tool, which make it stand out above all of its competitors.
Quality Scripts
It's great to have access to such a diverse range of proven copywriting content for someone who isn't an expert copywriter. An example of one of the many scripts available through this service is shown below.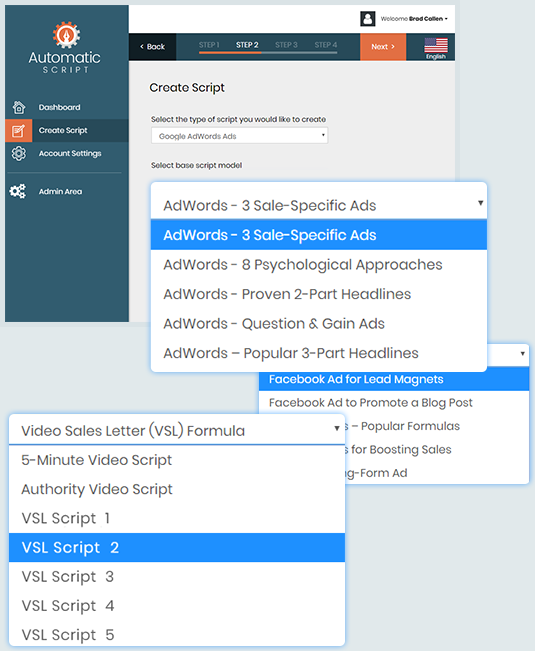 Scale Your Business
This software will make it quick and easy to generate scripts at scale once you've found a few that work for you. You can even do the same thing with custom scripts you've found outside of the service using the template builder! That will be covered in more detail later.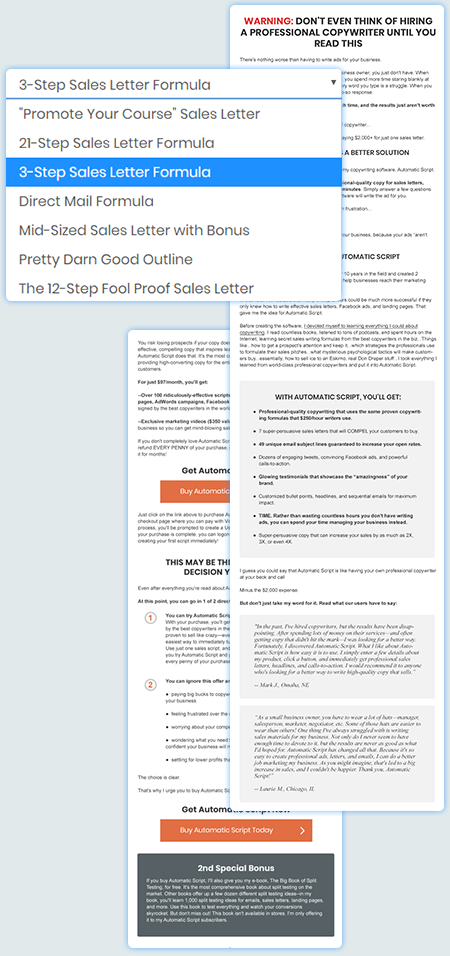 Easy to Use
The user interface of Automatic Script is first and foremost excellent, being both modern and sleek in appearance. I've had similar tools from small businesses that came with shoddy "functional" user interfaces….not Automatic Script.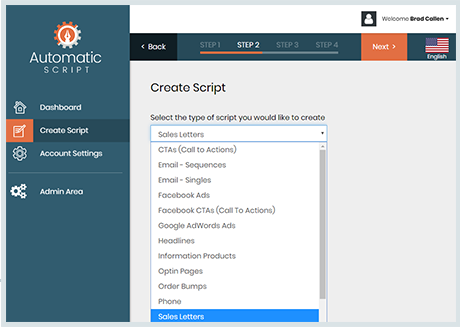 Making a script is also simple, with the tool guiding you through a simple wizard to the desired outcome.
Wide Range of Templates
Automatic Script has amassed a sizable library of copywriting templates, ensuring that you can find one for almost any type of business. Here's a comprehensive list of the different types of scripts you can create…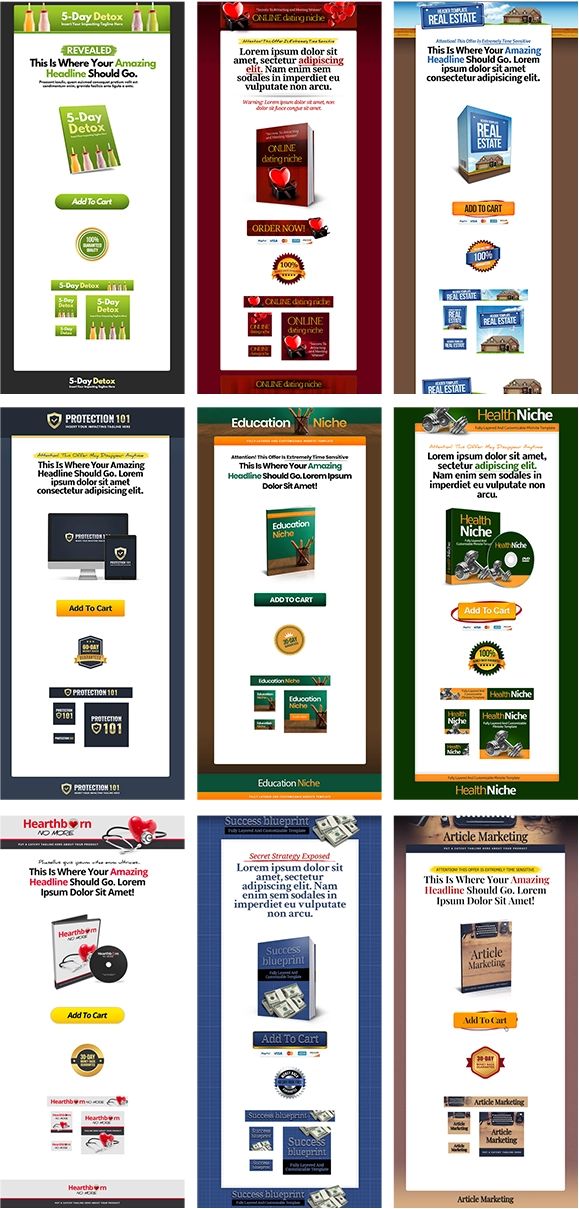 Compare Automatic Script Price with Group buy Automatic Script Price
Automatic Script price
There is currently no Automatic Script Free Plan, only two paid options and 3 OTOs. Please visit here for more information.
Standard Plan
$39/ a month or $240/ a year
3 Sales Letters
5 Email Sequences
10 Email Singular
2 Facebook Ads
1 Facebook CTA
2 Google AdWords
2 Headlines
1 Info Product
1 Optin Page
1 Optin Bump
3 Phone Scripts
1 CTA
1 Testimonial
2 Upsells
3 Video Scripts
1 Webinar Outline
1 Webinar Promotion
Enterprise Plan
$69/ a month or $480/ a year
10 Sales Letters
16 Email Sequences
33 Email Singular
5 Facebook Ads
2 Facebook CTAs
5 Google AdWords
5 Headlines
1 Info Product
5 Optin Pages
1 Optin Bump
10 Phone Scripts
1 CTA
5 Testimonials
5 Upsells
10 Video Scripts
2 Webinar Outline
5 Webinar Promotion
OTO 1 – Automatic Scripts Enterprise
$97/ lifetime
10 Sales Letters
16 Email Sequences
33 Email Singular
5 Facebook Ads
2 Facebook CTAs
5 Google AdWords
5 Headlines
1 Info Product
5 Optin Pages
1 Optin Bump
10 Phone Scripts
1 CTA
5 Testimonials
5 Upsells
10 Video Scripts
2 Webinar Outline
5 Webinar Promotion
OTO 2 – Automatic Scripts Graphics Bundle
$67/ lifetime
25+ Unique Page Templates
180+ Original Bullet Points
13 Different Section Dividers
Page Header Templates
49 Different Arrows
45 Action Buttons
31 Guarantee Badge
20+ Photoshop Custom Style
8 Product Mockups
And much more…
OTO 3 – Easy VSL
$97/ lifetime
You can add the Easy VSL video creation software to your order. With Easy VSL you'll be able to quickly and easily create professional sales videos, using your Automatic Script sales messages. This is the perfect 1-2 punch for creating sales videos to promote your products or services online. You won't have to hire a professional videographer ever again. But you must act now..
Group buy Automatic Script price from Share Tool
If you want to try Automatic Script but you don't have much money, don't worry. We have group buy Automatic Script + OTO1 from $5.
To meet the budgets and needs of our customers, we offer the following group buy Automatic Script Package
$5/ a month or $20/ a year
You will receive:
TRIPLE the number of Sales letter, email, VSL, optin page, upsell, webinar, Facebook & Google ad, headline scripts and more! More scripts means more flexibility. The Enterprise upgrade is 100% optional and not required. Some choose Standard. Some choose Enterprise for even more script variations. Choose whatever best suites your needs.
Conclusion – Automatic Script Review
Through this Automatic Script Review article, you can easily acknowledge that this tool is a fantastic and useful tool for you. It's a time-saving tool with automatically algorithms. To be honest, this tool is definitely worth buying.