Welcome to our PuzzleWiz Review. In this article, we'll go over everything you need to know about the PuzzleWiz – a software that allows you to create upload ready puzzles for kindle directly publishing with a few simple clicks!
What is PuzzleWiz?
PuzzleWiz is a program that lets you create the largest number of puzzles and activity books on a single platform. Although you could make your own puzzles by hand (which you certainly can), the planning and creation process takes a long time.
How to use PuzzleWiz?
In this PuzzleWIz Review I'll show you how to easily create a Maze puzzle book. After logging in with your email and password, you'll be taken to the PuzzleWiz dashboard, which looks something like this: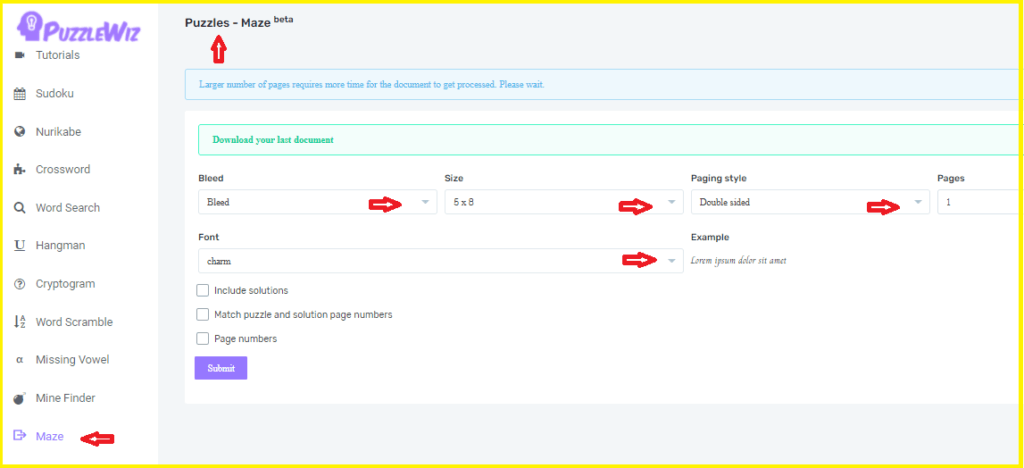 Let me now demonstrate how simple it is to create a maze puzzle interior. In the screenshot, it's indicated by red arrows.
Step 1: On the left panel, select Maze from the drop-down menu. When you select it, it will appear at the top of the list.
Step 2: Choose whether to bleed or not to bleed. Unless you want to add a frame or images to the puzzles, most puzzles do not require bleed.
Step 3: Choose your book's size. You have three options (58, 69, and 8.511). The most common puzzle book size is 8.5 x 11 inches.
Step 4: Unless you want your book to be single-sided, choose double-sided printing.
Step 5: Decide on the number of pages to print.
Step 6: Make a list of the buttons you want to use, including solutions, matching puzzle and solution page numbers, and adding page numbers.
Step 7: Press the Submit button and wait for the puzzles to be generated for you by the generator. After that, you'll see a message that says "Download Your Document." Simply click on this message, and you're done! Your puzzles are complete.
Pros and Cons of PuzzleWiz
Pros
Puzzle variety
Hands-off Puzzle Creation
Cons
Certain features of Puzzle Wiz's websites may not function properly without the aid of cookies.
Features of PuzzleWiz
Puzzle Books Have Always Been A Hassle Until Now!
Generating Puzzle Books For Kindle Direct Publishing Has Always Been A Hassle. Figuring Out The Spacing, Sizing, And How To Actually Fill Out The Numbers & Words Based On Algorithms Was Never An Easy Task Until Now. They Take The "Hassle" Out Of Puzzle Books.
Quickly Generate Unique Puzzles
Quickly Generate Unique Puzzles For Your KDP Business. Whether you are just starting out, or diving deep, we have created a simple solution to get your books noticed in front the millions of customers on Amazon.
Unique 9+ Puzzle Interiors
Upload Ready
Preset Sizing And Page Count Options
More Puzzle Types Coming Soon
Word Searches For Your Business!
Whether you want to create a totally random Word Search or want to niche it down, simply upload your .CSV and generate Word Search Puzzles with a click of the mouse!
Compare PuzzleWiz Price with Group buy PuzzleWiz Price
PuzzleWiz price
There is currently a 3-day PuzzleWiz Free Plan available for this product , and one paid option. Please visit here for more information.
Starter Plan
$9.99/ a month
Unlimited Downloads
Unlimited Interiors
Group buy PuzzleWiz price from Share Tool
If you want to try PuzzleWiz but you don't have much money, don't worry. We have group buy PuzzleWiz from $5.
To meet the budgets and needs of our customers, we offer the following group buy PuzzleWiz Package
$5/ a month or $20/ a year
You will receive:
Unlimited Downloads
Unlimited Interiors
Conclusion – PuzzleWiz Review
Through this PuzzleWiz Review article, you can easily acknowledge that this tool is a fantastic and useful tool for you. It's a time-saving tool with automatically algorithms. To be honest, this tool is definitely worth buying.