Filmora is a great video editing software, but it's not the only one in the market. In this blog post, we'll highlight some of the best Filmora alternatives so you can find the tool that fits your needs and budget the best – regardless if you're an amateur or a professional filmmaker.
What is Filmora?
Filmora from Wondershare is a great video editing program that anyone can use to make beautiful videos. The Wondershare Filmora video editor is easy to use and allows users to drag and drop moving images into their videos.
Wondershare Filmora has cutting, transitions, overlays, and effects like other enthusiast-level video editing tools. Motion tracking, keyframing, and speech-to-text are among the company's latest additions. Filmora works and has a nice UI, but it lacks some of the fine control of other video editing tools.
Pros of Filmora
Is filmora a good video editor? You"ll have the answer:
Use simple, light menus
Intuitive direct interface
Smooth video editing on low-end laptops.
Easily apply effects and filters
Drag-n-drop up to redirect.
Title text border style.
Powerful sound set.
Color analysis tools, LUTs can be applied.
Video of additional applications on Filmora's online library.
Presets: sample titles, video app effects, word sections, thumbnails and more
Fast video output speed
A lifetime license for pricing
Does filmora have a free trial? Yes
Why you should consider for Filmora Alternatives?
No tracking of movements
Cutter and Action only play one clip
Modes for cameras
No transition/effect search tool
No VR or multicam editing
No DVD menu or chaptering
Top 5+ Best Filmora Alternatives
Editing videos can be a difficult and often expensive process. If you're looking for an easy-to-use alternative to Filmora, you've come to the right place. We'll cover five+ of the best Wondershare Filmora alternatives so that you can find the perfect tool for editing your videos quickly and easily. Let's get started!
Adobe Premiere Pro
Adobe Premiere Pro is one of the most popular professional video editing tools because to its non-linear editing interface, powerful suite, and comprehensive features that enable flawless professional edits. Premiere Pro supports most video and audio formats, 8k films, and over 6,000 stock videos, but it has a steep learning curve for novices.
Premiere Pro is used by experienced video editors. It is used by filmmakers, news studios, marketing agencies, and YouTube producers. Even though it has a learning curve, the Adobe team offers in-depth training for every level.
Main features of Adobe Premiere Pro
Nonlinear editing interface with scene recognition and auto-reframe
Over 6000 4k stock videos
Color correction
Hundreds of motion graphics templates
Create and collaborate on shared projects
Social publishing
Supports all major video and audio formats
Supports 8k videos
Very responsive interface
Supports immersive VR
6,000+ stock videos
Multi-track editing lets you edit complex projects at once
Biteable
Biteable makes animated slideshows, instructional videos, and motion graphics. Its extensive stock & templates, dynamic visuals, and layouts set it apart. It's straightforward to use, even if you've never produced a movie, although customization is limited.
Whether you want to make a non-animated advertising video, YouTube video, or Instagram clip, the site largely has animation and motion-graphics templates. Due to its wide range of simple templates, Biteable is ideal for companies, marketers, agencies, and video editors. The templates include HR onboarding, product debuts, video weddings, and birthday invitations, so you may use it for personal and commercial purposes.
Main features of Biteable
Easy drag-and-drop
1.5M video templates and assets
Extreme branding customisation
Social media template sizing
Import assets and integrate with Biteable video or template
Video analytics for social media performance
To maximize experimentation, free exports
Sync voiceover layer with video
Camtasia
Camtasia is a great Filmora alternative since it can record and edit videos. The program is primarily known for capturing camera and screen footage to create instructional screencasts. Camtasia has a sleek interface and powerful functionality for experienced video producers on Windows and macOS.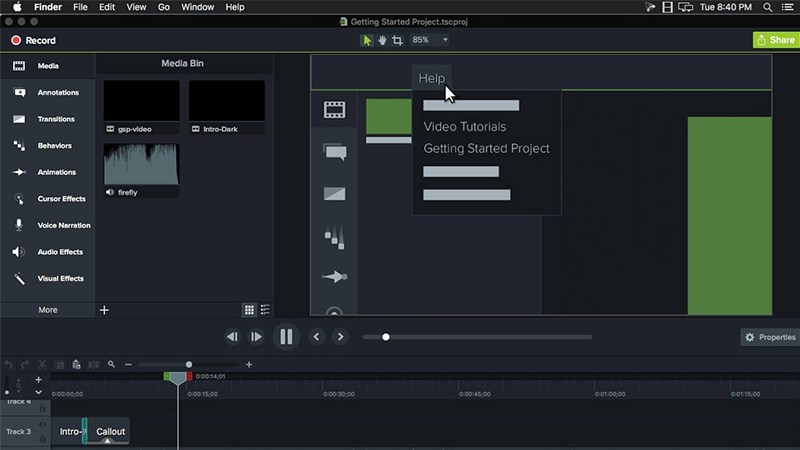 It includes callouts, cursor effects, transitions, captioning, and PowerPoint-to-video conversion. Camtasia also lets you add a table of topics and a quiz to test audience comprehension and obtain feedback. Content producers, educators, coaches, and product teams that wish to generate screen-recorded instructional films should use Camtasia.
Main features of Camtasia
Support for 4K video and track-based editing
Supports Picture-in-Picture (PiP) to combine pictures and clips into movies
With toggling mic, records high-quality screen or webcam footage
Voiceover captioning for instructional and instructive videos
Customizable audio track mixing
Powerful editing suite with video effects and quizzes
Offeo
Offeo is an automated video creation and editing tool that can help you make the best marketing videos. This browser-based editing tool has hundreds of selected design templates, reseller licensing rights, and a simple video editor.
The AI-powered drag-and-drop editor offers millions of video assets and 3000+ audio tracks. You can increase brand interaction by creating personalised videos for every social media site.
Due to its promotional content templates and editing options, Offeo is great for social media marketers, content producers, designers, and small marketing companies. It's ideal for making captivating video advertising and social media material for businesses and events.
Main features of Offeo
3M+ Shutterstock images and 3000+ video templates
Custom fonts and colors let you brand material
Increase engagement by customizing videos for each social media outlet
5000+ cinematic soundtracks
Better timeline control for graphic layers, audio, and animation effects
Quickly animate mainstream material
Delete the backdrop and integrate organically
User-friendly design
Multilingual content production in 20 languages.
Smart Create automates video editing.
Get reseller licenses for all your films
100GB storage.
Renderforest
Renderforest is a Filmora alternatives free. Branding platform Renderforest includes video editing. This editing platform includes text-to-video conversion and musical visuals along with cutting and resizing.
Choose from its many themes and presets to create the ideal video for any need. Renderforest's mobile app and extensive intro, outro, and music collection make editing easy. It lacks professional video editing tools.
Creators and designers with simple video editing needs should use Renderforest. It has several use case templates. It's not ideal for professional video editors.
Main features of Renderforest
Easily turn any text into a video post
Choose animation styles, musical visualizations, and transition effects
Post videos on social media
Create films anywhere using the smartphone app
Simple navigation and interface
Suggests edits to optimize any manuscript
300+ video elements
Video-audio sync
Flexible subscriptions
Invideo
InVideo is a simple online video editor that lets beginners make professional videos in minutes. It's a good among these alternatives to filmora. Due to its sophisticated editing suite, easy-to-use interface, completely adjustable templates, big stock media collection, and many menu choices.
Start using InVideo's easy online video editor by creating a free account. InVideo is suitable for personal and professional use. InVideo has over 5,000 themes and 8 million stock videos and images for social media marketers, business owners, and YouTubers.
Main features of Invideo
More than 5,000 editable designs to start with
Advanced video editor for beginners and pros
8M+ royalty-free image and video assets
Try the tool for free before upgrading to premium
Easy drag-and-drop editing
Produce, process, and upload videos to social media
Powerful editing features including close captioning, automatic voice-overs, HD quality, speed modification
Add as many teammates as needed to the workspace
Create brand-aligned videos
Chat support is available 24/7 from within the editor
Download videos without watermark in premium version
Store up to 100GB of material
Edit films on Android and iOS with Filmr – Video Editor & Video Creator
Conclusion: Which is the best Filmora Alternatives?
No matter which Filmora alternative you choose, it's important to note that the key to becoming a pro is practice and dedication. Investing in the right software can definitely get you started on the right path but there's only so much technology can do. Only with consistent effort and practice will you gain the skills needed to produce truly amazing video projects.