SEO tools make it easier for writers. You might have seen WriterZen, one of many tools that are being updated daily. This new SEO tool has gained popularity due to its simple-to-use interface.
After purchasing WriterZen via AppSumo, we have now tried it out and are now sharing our review. This WriterZen Review may help you to understand the features and benefits of WriterZen, which is a relatively new tool on the market.
It is mainly focused on three main features: Topic Discovery, Plagiarism Checker and Content Creator.
Keep reading the WriterZen Review for more information about the features and its pros & cons.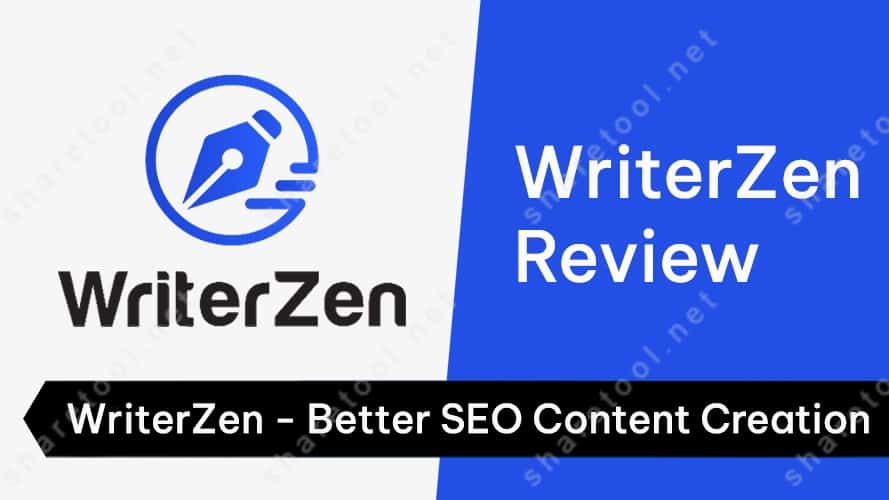 What is WriterZen?
WriterZen is a revolutionary toolkit that brings together all aspects of content research to solve the most urgent creative problems. WriterZen is your one-stop-shop to all your content requirements. It curates and delivers the best resources from the web to you in one interface that is simple to use. WriterZen is an Ai Copywriting Software that will impress you.
WriterZen was established on the principle of better content when it is created in a group. The interface is beautiful, but the true beauty of WriterZen lies in its ability for collaboration. Multiple people can work on one article at a time. WriterZen makes it easy for marketers, programmers and writers to work together on articles.
The best part is? WriterZen lets you access all of their resources for free. You don't have to pay hundreds of dollars for software or hire top-quality talent. You can focus your energy on what you love most: creating great content. WiterZen believes that "write" doesn't just mean putting words onto paper. Good writing requires great research. WriterZen encourages that you do your research first, and then write. It makes these two processes much easier.
Benefits Of Using WriterZen
WriterZen helps you work smarter and more efficiently. You can stop switching between apps.
SEO Like the Pros: WriterZen combines SEO tools to help identify high-ranking keywords quickly and fill content gaps. SERP-optimized content, guaranteed.
WriterZen has the grammar and plagiarism tools that will allow you to improve your writing skills.
WriterZen – Get the Writing Solution You Deserve. WriterZen provides a comprehensive writing solution. This makes it less costly than investing thousands in separate content optimizing tools.
WriterZen Review: Who can it be used?
WritersZen employs a team of writers that are passionate about content. They are professionals who are highly skilled in the area they work in. Because there are so many other writing sites, the emphasis is placed on quality rather than quantity. They believe their model is the most successful when it comes to producing quality content which engages readers and establishes trust.
WriterZen allows marketers to write high quality content. They can also learn about marketing, writing and software tools like Grammarly.
WritersZen allows designers to create UX designs. Daily challenges provide examples of real-life marketing materials that can help them improve their copywriting skills.
WriterZen is a tool that allows programming professionals to increase their skills as technical writers. This will enable them to become consultants and thus increase their earning potential. They can also improve customer service skills which will enable them to better work with clients.
WriterZen can help writers improve their writing skills by providing daily lessons that will teach them how to be more concise, efficient, and focused. They can improve their career as copywriters or project managers, and even consultants who specialize in communication skills.
WriterZen allows consultants to increase their communication skills to work, and to create a portfolio that includes writing samples that they can present to potential clients in order to convince them they are the right person to do the job.
How does WriterZen work?
Keyword Explorer
You must provide detailed information on the market size, competition level, and search intent to ensure keyword research is on track.
Get valuable insights from powerful metrics
Search Volume is the average monthly searches for a keyword in a given month. Allows you to calculate keyword frequency.
Trend: The level or interest in a query over the past 12 month. Allows you to see how frequently a keyword is Googled over the past 12 months.
Cost Per Klick: The average price a user pays to click an ad. This allows you to search for keywords that are most relevant to your keyword.
Keyword Difficulty refers to the difficulty of a keyword (in percentage). This can be used to locate the most common keywords that are relevant to your seed among the top 20 URLs.
Allintitle/GKR – This shows all pages in search engines that include the seed as their title. This can be used to quickly analyze the competition and develop new content strategies.
Keyword Trending is a way to see how search volume fluctuates for specific keywords over two consecutive months. This can be used to locate keywords with seasonal rankings.
Locate Golden Keywords Quickly: Keyword Golden Rateio is a metric which shows how many other pages compete for this keyword. Higher numbers mean better chances to rank in Google.
You can use the Keyword Golden Ratiometric for keywords that are low in competition, but have high search volumes.
Find the most relevant search results, high-converting ideas and suggestions for all topics.
You can estimate your monthly traffic using search engines with over 99% accuracy.
You should investigate the potential of long tail keywords that are high in search engines and have low competition.
Automatically Cluster Keywords With 100 Percent Accuracy. Make use of this data representation to categorize keywords according to their relevance, popularity, part or speech, and compare them to the seed.
You can organize keywords into groups to reach a wider audience and rank your content.
For a properly organized content, you can use keywords from various groups.
Make use of our patent AI to automatically group keywords based on relevancy.
Get the most out of your website's traffic potential by using insights from different groups.
You can create insightful content by using different keywords, but they should be closely related.
You can generate quality ideas using The Insight Generator: This generator provides a wide range of precise and valuable metrics that can then be analysed to give you a better understanding of how keywords should be placed in your content.
For gaps in content, you can use the most frequently suggested suggestions of your audience.
You can find the most searched topics and questions by using your search intents.
You can reverse engineer the content strategy of your competitors and discover your opportunities.
Know exactly where to place your content marketing.
All of Your Keywords in One Location: You can save all your keywords in one place by selecting and adding a range of your favorite keywords to a custom list. Then you can share it, access it later and use it again.
You can choose your desired keywords, and then save them in the Keyword List.
To make it easy to find your top keywords, you can keep them all in one list.
Each database can contain up to 50 keywords.
Topic Discovery
Get the latest trends and headlines, learn about customer concerns, and find the right title through content gap analysis. Find content ideas that appeal to your audience and find new topics for your content strategy.
Do you struggle with writer's blocks? Don't fret. Do a simple search for keywords and you will get a list containing viral headlines, questions, phrases and more.
Locate the topics that are most relevant for your search.
To make it easier, sort results using metrics such as Headlines Relevancy, Search Volume, and Topic Insights.
Look for topics related to your search terms to uncover new perspectives for your content.
Utilize the search results for strategic content creation that will rank high in your desired seed.
Find the Most Popular Headlines to Use for Every Seed: This feature allows you to search through a variety of metrics to identify current topics and subtopics in use by your competition.
Find topics and subjects that resonate with your target market by using the most engaging headlines
Compare topic insights based off popularity to maximize your organic engagement.
Think Like Your Audience. Find out the most common topics being discussed by your audiences in relation to your seed.
By using popular searches, you can determine what your audience needs from a particular topic.
Get insights from search results to help you choose better topics and use more relevant keywords.
Look for Content Gap opportunities. Find out what subtopics are covered and which are not by your competitors. Look for content strategies that work quickly.
Easy content template creation in just a few clicks. Get actionable SEO recommendations to improve your article's future content.
You can search for your topics using a mindmap. This will help you find the best and most creative ideas.
WriterZen can store your favorite topics and titles. WriterZen is a one-stop solution that's cheaper than other apps. Stop spending thousands on keyword research and content tools.
Content Creator
Structured standard SEO content can be created, shared easily with collaborators, and managed to maintain originality.
It's easy to create great content.
Compare the top 20 URLs relevant for your seed.
Google Suggest provides insights to help you understand your audience better.
Get real-time advice on the optimal content structure including length, paragraph count or image association.
Arrange, rearrange, or tweak your content to improve SERP performance.
Quickly create Content Outlines: Rapidly organize your research into clear, concise outline for your content.
You can add/remove headings, topic suggestions and more to your outline.
Optimize the content of your creation by using keywords in targeted ways at optimal densities
You can access all your data using a consistent layout that allows you to make adjustments easily.
Enjoy A Lavish text editor: Benefit from the wide variety of features on this intuitive and vibrant editor that includes live suggestions, content score, note-tracking and other useful features.
Live assistance is available to guide you through the writing process.
Full-screen options and content scoring help to keep your eyes on the project.
Export facilities let you save files in different formats to make sharing easier.
Plagiarism Checker
The plagiarism detector is the final feature that is worth mentioning. It can show you which part, if any, of your content is too close to another website.
I took 2 sentences from AFC Dallas titled "How do you prevent ankle pain while running?" to see how accurate and effective the feature. Plus, I wrote a small section of mine to complement those 2 lines.
The results made me very happy. The plagiarism checker not only identified which lines were copied (the lines highlighted in red).
It also pulled up the AFC Dallas Article from where I sourced these lines. The rest of my original content was authenticated and made by me. This feature works extremely well, suffice to say.
The best thing about this plagiarism detector is the fact that you can actually visit any website it flagged.
It is important to read the content carefully and not write anything similar.
Your plagiarism report can also be exported for sharing. This is a great way to show your clients the authenticity of an article.
Pros & Cons of WriterZen
Pros
The interface is easy to use for beginners.
Using this tool will assist you in writing high-quality articles and blog posts that target the right keywords and audiences.
It offers suggestions on what words to use, topics, and images to improve your article's quality.
You can also schedule upcoming posts to go live when you are ready to write them.
Cons
Only English is available on the tool front end of the platform.
All the plans have some limits, and none of them have unlimited features.
WriterZen Pricing
Regular Price
WriterZen offers simple pricing options, flexible plans, personalization options, and transparency for all levels of your business.
Basic Plan: Great for solo workers who only need to manage one project.
Standard Plan: Ideal to work in small groups on multiple projects.
Advanced Plan: This plan is best for agencies and big digital marketing firms.
WriterZen also offers credit-top-up services. It allows you to easily buy things without breaking the bank. It comes in two variants:
AI Credit: A.I. credits are used for Google NLP Analysis. For each optimized article to be able to offer the best suggestions, it will take 3 credits.
Keyword Credit: Keyword credits may be used for Auto Clustering or Golden Keywords filter functions. Each keyword scanned equals 1 credit.
It doesn't end here. WriterZen also offers Combo Credit packages like:
Solo (60 A.I Credits + 20,000 Keyword Credits)
Team (180 A.I. credits + 40,000 keyword credits)
Agency (600 A.I.Credits + 150,000 Keyword Credits
Group buy WriterZen price from Share Tool
WriterZen Premium can be purchased from us at 2 different prices
Monthly Plan: $10
Annual Plan: $30
If you want to use, you can buy here
This group purchase will give you the following benefits:
Content Brief Monthly: 70 (Share for 7 users)
Topic Look Up Daily: 50 (Share for 7 users)
Keyword Look Up Daily: 250 (Share for 7 users)
Keyword Check Allintitle Monthly (100,000 (Share for 7 users)
Keyword Cluster Monthly: 100,000 (Share for 7 users)
Plagiarism Checker Daily: 40,000 (Share for 7 users)
Conclusion On WriterZen Review
WriterZen is a tool that allows you to produce unique, engaging content. The interface is simple and intuitive so you don't have any need to be a pro at creating complex designs or fiddling with settings.
It also allows you to select keywords that will receive maximum traffic on your pages or blog posts based on Google's ranking algorithm. So all you have to do now is to research these topics before you start writing anything.
Thanks for reading my WriterZen Review. If you have any questions you can post them in the comments below. I'm happy to help. You can also join our FB Group ShareTool.net or Telegram community below to discuss the upcoming SaaS or Shared Product Review.